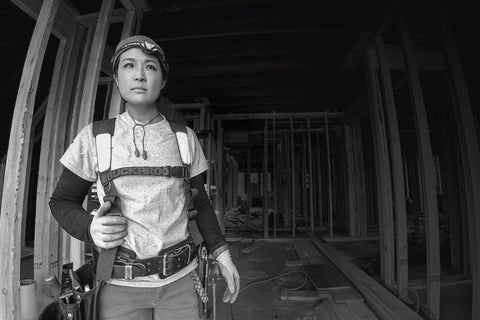 Elly Hart, an Aussie carpenter living in Vancouver on her journey to becoming a qualified carpenter.
 On this episode of the This is a Man's World, She Who Dares Wins podcast, our guest is Elly Hart, an Aussie carpenter living in Vancouver. After moving to Canada with her boyfriend several years ago, Elly tried to work remotely as a journalist for an Australian company, but she found it very difficult to write for an audience that was so far away. To relieve her stress about this situation and as a way of adjusting to a new country, she started tinkering around with woodworking, building things for around the house. The thought occurred to her after she had converted her den into a workshop that perhaps she could turn her hobby into a sustainable source of income so she could quit her journalism job. She got plugged into the excellent pre-apprenticeship program in Canada that provided her with levels 1 and 2 training and 450 work hours as a way of getting her foot in the door of the carpentry and construction industry. Elly has worked for smaller companies her whole career, finding that the dynamics are better for her personality, and overall she has found that people are very tolerant and supportive of women in the trades in Canada. Elly joins the chorus of women in the trades saying that more women should be encouraged to enter the trades, but there is a lack of female role models out there right now. Hopefully the trend will begin to shift and women will be motivated to seek training and employment in the trades as they see more women visibly involved on job sites. Elly points out that construction is not the ideal industry for everyone, but it can never hurt to try it out and see if it might be a good fit for you. She encourages women to not be intimidated by the lack of other women in the trades or the perception of the physical demands of construction, saying that you can do what you want to do. Time Stamps:
2:07 – Elly's journey to becoming a carpenter.
6:53 – How Elly felt when she entered the trades.
10:30 – The attitudes that Elly has encountered towards women in the trades in Canada.
15:34 – The benefits and drawbacks of working with smaller companies.
23:08 – How Elly hopes the industry changes in the next 20 years.
27:17 – Elly's transparency through her Instagram posts.
31:54 – Conversation about project management. 37:48 – Physical manifestations of stress from the job.
40:55 – Construction is not for everyone.
45:47 – How Elly would give advice to women considering the trades.
47:20 – The physical side of working in construction.
51:08 – Elly is no longer an apprentice.
Key Quotes: "Why couldn't I do this full-time? Why couldn't I make a living doing this?" "Is there a reason why there are so few women visible in the trades?" "You have to try it to really know for sure." "If I had stayed in Australia, I don't think I would have ever ended up in the trades." "The fear of jumping into the trades totally comes from stereotypes – these generational ideas that trades are not meant for a woman." "We have a massive image problem in the trades." "Where you choose to start out from is very important for the rest of your career." "Don't forget about the industry."
https://www.instagram.com/ellytheapprentice/
Connect with us: https://www.patreon.com/Thisisamansworld https://thisisamansworld.co.uk/