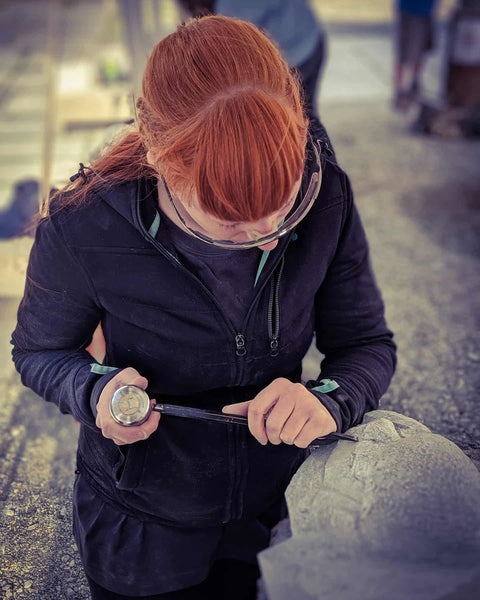 Female Stone Mason Rachael, talks us through the ancient old trade and why she wished she had found it sooner.
In this weeks episode I got to chat with Stone Mason apprentice Rachael Wragg. Rachael is currently learning the trade at Lincoln Cathedral. Rachels talks about finding her passion and purpose for working with stone, after completing a degree in art and then working in numerous 'pointless' jobs.  A self-proclaimed history nerd, she took the leap of faith to master the craft of stone masonry. Finding her dream job, she tells us how incredibly proud she is of her work, playing an important part in restoring history and how the family of co-workers are amazingly supportive.
1:28 Explaining why stone masonry is the coolest job ever
3:48 How Rachael ended up finding her dream job
5:41 How the attitude "that's someone's else job" prevented her from chasing her dream earlier
6:00 Hitting 30 and taking that leap into the unknown, and just how daunting that was
10:38 Family attitudes towards her new ventures
13:00 The importance of being respectful to the working environment and general public
14:00 Being accepted by her all male workforce and just how supportive they have been
17:40 Why Rachael loves working with stone, and why we need more women in the industry/trade
19:36 Why it's good to be a little nervous at work
20:00 Discussing the danger of working with masonry tools
21:00 Attributes you need to be good at stone masonry
24:00 Physical strength and adapting to work, knowing your limits and own strengths
25:00 How we can get more women into masonry
28:01 Where Rachael wants to be in 5-10 years
29:30 Regretting going to university for the sake of it and wasting time working pointless jobs
Discussing trades as a lesser job
"It's a different kind of smart, there's a lot of work needed to break the stigmas"
How she is treated by guys at work
"I would expect them to expect me to do the same work as they do and not to treat me any differently because I was a girl"
Go follow Rachael now @thegingerstonemason
Check us out on Instagram @shewhodareswins_
www.shewhodareswins.com For more great stories and Merch!