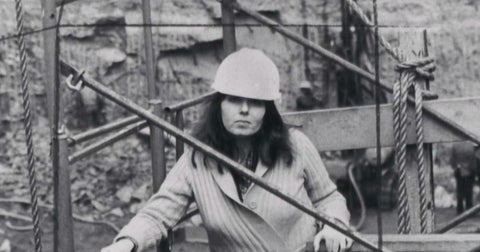 Barbara Res author of "All Alone on the 68th Floor", and former Vice President at the Trump
Barbara Res, an engineer, author of "All Alone on the 68th Floor", and former Vice President at the Trump Organization, joins us on this episode of the This is a Man's World, She Who Dares Wins podcast. Barbara has truly blazed her own trail in the construction industry, the only woman in her electrical engineering program in college and one of the few women working on the Grand Hyatt construction project in New York City when it was being built. Donald Trump met her during her time working on that project and he liked her tenacity and drive so much that he hired her to work for him on the construction of Trump Tower. She certainly experienced her fair share of harassment and prejudice from men around her, but she believes that it was all worth it to pave the way for the women that would come behind her in the industry. She learned to choose her battles and know when it was worth standing up for herself as opposed to when a situation was best ignored. While she wishes it didn't have to be this way, she has seen the progress in the industry over the past nearly 4 decades and she sees a bright future for women entering the trades. Barbara has encountered some unexpected advocates for her and other women in engineering and construction along the way and she is glad that society is opening up to welcome women into more male-dominated professions.
Time Stamps:
1:18 – Michelle and Barbara met at the Women in Construction event. 2:30 – Barbara's educational journey.
4:58 – How Barbara came to be hired by Donald Trump.
7:31 – How the industry has progressed since Barbara first entered it.
11:50 – Michelle's story of recent situations she has faced.
17:26 – Barbara provides advice for young women entering the industry.
23:32 – Is it ok to want to be liked?
25:59 – Barbara's perspective of men championing careers for women.
33:34 – What does Barbara think of quotas?
34:52 – Can you be a mom and work in construction?
41:43 – Having the right perspective when working as a woman in construction.
44:15 – What Barbara is currently working on.
46:12 – Advice for women considering jobs in the construction industry.
Key Quotes: "The industry has certainly progressed, especially in terms of the law." "People don't want women doing so-called 'men's work.'" "You have to pick your spot. You might have to be a martyr but you also may be able to stand up for yourself." "At the end of the day, you have to respect yourself." "Whatever happens, it is not your fault." "Not everybody needs to be a CEO, but you need to know your capabilities." "If you make people happy, you'll get more out of them."
Connect with Barbara: https://www.amazon.com/All-Alone-68th-Floor-Construction/dp/1523712562 Connect with us: https://www.patreon.com/Thisisamansworld https://thisisamansworld.co.uk/ https://www.facebook.com/Thisisamansworlduk/ https://twitter.com/AMansWorldUK https://www.instagram.com/thisisamansworlduk/ https://www.youtube.com/channel/UCADDdf-5TgSb3VZJ6XcSAWg?view_as=subscriber michelle@thisisamansworld.co.uk