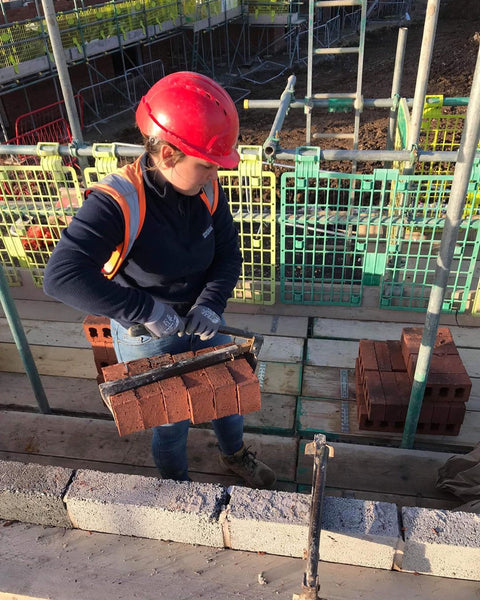 Apprentice Bricklayer Beth Skinner spills the beans on being the newbie and learning an incredible trade at a young age.
On this episode of This is a Man's World, She Who Dares Wins Podcast, our guest is Beth Skinner. Beth is a bricklayer from the UK. When she first started doing the groundwork she was very quiet and shy but by the end she blossomed out of her shell.
Sometimes you put a barrier on your own potential by these thoughts of 'I can't 'that creep in. Beth is a prime example that you can defy the odds and having a thriving career in any field you choose. Being a young female, Beth wondered if they were going to give her the change she wanted? She has had an incredible experience. Beth attributes a huge portion of the positive experience she has had to the people she works with.
She absolutely loves the work she does. Her responsibilities go beyond just laying bricks. What you can get out of it is tenfold compared to what you put into it. There's the good, the bad and the ugly but it is a rewarding career. You have to really want to do it. You can't glamorize the times that aren't as great but it can be incredibly fulfilling.
2:08 — How Beth got into construction
3:44 – Beginning the onsite experience
14:20 – Why Beth loves what she does
18:30 – Importance of people you work with
24:04 – Being a female on a construction site
30:03 – Unsafe situations
33:16 – Understanding the full spectrum of the career
35:14 – Where Beth sees herself in 5 years
5:52 – "You just start off with baby steps."
8:08 – "I've personally never seen a female brick laborer."
14:41 – "You're not just a bricklayer, you're a problem solver."
20:01 – "You'll never find one bricklayer that works the same."
29:42 – "You have one individual who's not concentrating and it ruins it forever."
35:25 – "I would love to go out and do my own builds."