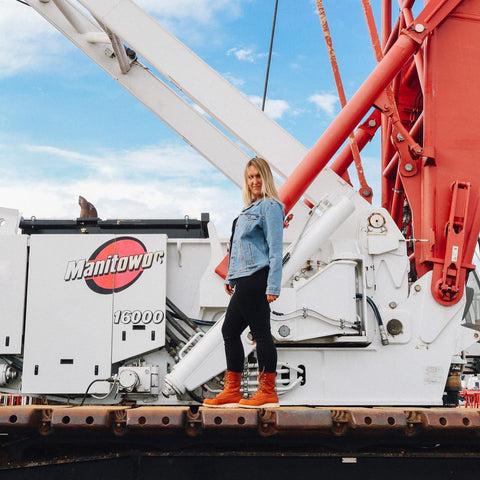 Crane driver Ashleigh Kaliszuk from Alberta shares her tip tips for surviving in construction.
In this week's episode, our special guest is crane driver Ashleigh Kaliszuk from Alberta, Canada. Ashleigh discusses how she became a crane driver, completely by fluke, and how at first, she didn't love it, but that all changed when she became a qualified journeyman. Ashleigh gives us an insight into why she loves her job, and how we can get more women into the industry.
Recently Ashleigh published a blog post offer advice to other women working in such a harsh male-dominated industry. In this episode, we gain valuable advice about setting boundaries at work, dealing with difficult men and situations, and the importance of social intelligence. Finally, Ashleigh also talks about why women supporting other women is paramount for the industry to progress and why we need to see more women leaders.
Ashleigh is a keen photographer and motorcyclist who loves to document her journeys both inside and outside of work to help inspire other women to follow their passions.
1:00  How Ashleigh became a crane drive after she started out as a scaffolder apprentice
2:00  How she didn't love the job at first but then really started to love it for a variety of reasons
4:30  Discussing other women in the industry and how we can get more to join and become crane drivers and the schemes in Canada for getting more women into trades
6:20  Dealing with brutal working conditions in Canada especially the cold weather
10:01  Advice for women entering the industry, how to set boundaries and how to deal with difficult situations at work when working away from home.
15:00 How to deal with offensive comments from men at work
17:20  The importance of being socially intelligent at work
20:40  Women supporting other women in the industry and why it is so important to build each other up. Ashleigh shares a bad experience with another woman and how it affected her.
25:42  The biggest changes Ashleigh would like to see in the industry over the next 10 years.
28:  Why it's important to document your journey at work
29:36  Ashleigh's passions outside of work and how she works with brands.
"I enjoy the hard work that comes with driving a crane"
"I love being able to support the Alberta Industry"
"I learned most of my lessons in this industry the hard way, and it's shaped me into who I am today and the confidence I have on the job site"
"It hurt to see somebody who had been in the industry, cut other women down. It was so hard because if you are going to cut me and other women down, then how can we rise up to any form of equality"